InsAR CAN BE LEVERAGED FOR BETTER RISK MANAGEMENT
The Insurance, potentially, can become a big InSAR service customer, the technology can be useful in the risk assessment and premiums calculations as well as cause of damage investigation and disputes resolution.
The average annual damage to properties due to subsidence in France only stands at €810M. It is a significant increase from 320M in 2000-2015. Every 1 in 5 properties in the UK (6,5m) is subject to subsidence and only property related claims amount to £65M p.a. Infrastructures related claims caused by land deformations amount to several billions around the world per annum.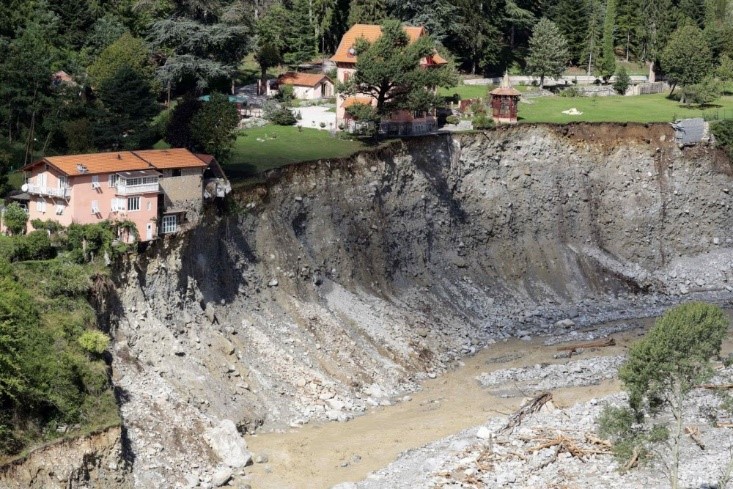 Insurance companies use various data to rate and predict risks, in particular, related to subsidence, which includes property data, geological model, vegetation and weather data are used in the models. Insurers also monitor risk development, e.g. cracks in the building, using sensors.
InSAR is not broadly used, although it can complement the existing models or serve as the basis for risk assessment where no risk models exist today.
The technology can be used for the following insurance related functions
Rate: InSAR allows to assess the risk of a deformation within an area, rate it and price in accordance with the risk profile.
Monitor: InSAR allows for effective monitoring of a risk evolution, its temporal and spatial development which can be used as a risk management tool.
Predict and prevent: we develop a unique solution, which allows to monitor, detect and then predict deformation and their impact on the objects within a zone of deformation, which can be used for risks modelling and risk management.
Support disputes admissibility and dispute resolution: InSAR allows to establish if an object was subject to land deformation. This is the most efficient quickest and costs-effective way to obtain a reliable opinion on the cause of a damage to an object.
GeoKinesia works with insurance companies in difference parts of the world providing InSAR expertise on the nature and scale of deformations for different insurance cases and applications.
Examples can be a case in Mexico City, where the dispute emerged on whether the damage to an object resulted from the earthquake (not the insurance case) or the local land motion, which affected an object (the insurance case). Our analysis allowed to settle the dispute.